Switzerland hosts an amazing variety of cultural events all year round. Legendary festivals such as the Locarno International Film Festival, Montreux Jazz and the Gstaad Menuhin Festival lead a long list of larger and smaller events and institutions across Switzerland throughout the year. Then again, let's not forget what students enjoy all around the globe: a good old-fashioned student bash and a well-deserved night out after classes.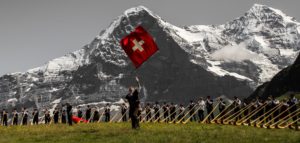 Clubbing
Clubbing is very safe in Switzerland and students love going out. Clubs usually get packed from Thursday night through to Saturday night. You will find more information on clubs near your university town in local cultural magazines and websites. Thanks to small distances and excellent transportation, it is also common to travel to a neighbouring town for a night out with friends (Timeout Magazine on nightlife in Switzerland)
Cinema and Film Festivals
Watch it! From Holly/Bolly/Nollywood to arthouse and independent movies, Switzerland has a very rich offering of film screenings in traditional cinemas, in 3D IMAX theatres, or at over thirty film festivals. The Locarno International Film Festival is the largest of all. It is a showcase of independent filmmaking, attracts over 160,000 visitors, runs for 11 days in summer, and has been held since 1946.
Music
Several excellent jazz clubs, opera houses and symphonic concert halls stage top performances year in, year out. In addition, you can enjoy music against a picture postcard backdrop. Switzerland has one of the largest film festival programmes in the world. Over 400 music festivals are staged every year with prestigious artists on scene. The Montreux Jazz Festival, the classical Lucerne Festival, Rock Oz' Arènes and the Zurich Street Parade are just some that testify to the diversity.
A common feature of practically all the festivals is that they are either staged on a lakeshore, surrounded by an awe-inspiring mountain range, or set in a charming medieval old town (Bachtrack on classical music in Switzerland).
Theatre, Dance and Performance Art
Lovers of the moving and performing arts will not be disappointed. All larger towns host events combining a variety of artistic forms ranging from dance and performance to theatre and comedy (Performing arts selection calendar).
General Culture and Seasonal Events
Switzerland is characterized by three major linguistic areas, and its culture is influenced by its neighbouring countries. In fact, metropolitan Milan, Munich or Paris are a day-trip away by public transport. But Switzerland also offers a glimpse of France, Germany and Italy within its own borders, while at the same time developing a unique culture of its own. The rich and varied cultural offerings range from traditional events to the trendiest exhibitions and performances. Seasonal traditions such as Advent, Carnivals and Spring Festivals are still very much alive throughout the country. At the same time, Switzerland enjoys a thriving modern arts scene. Did you know that "aficionados" can get a university arts degree in yodelling in Lucerne?
Fine Arts
Well-known painters and sculptors of the 19th and the 20th centuries (Albert Anker, Ferdinand Hodler, Paul Klee, and Alberto Giacometti among others) were Swiss or Swiss-born. Jean Tinguely and his creative crazy machines also hail from Switzerland.
Switzerland boasts a long tradition of architecture: visitors will enjoy opulent Romanesque cathedrals (such as those in Geneva or Basel), as well as Gothic churches (in Zurich and Lausanne) or the Jesuit Church in Lucerne, which, dating from 1666, is the first example of the Baroque style in Switzerland.
Styles have evolved, but a strong tradition of architecture has remained: some of the most famous and influential architects of the 20th century, such as Le Corbusier, Mario Botta and Herzog & de Meuron, are Swiss. In recent years, several innovative Swiss-designed contemporary structures have been recognized with international awards.
Museums
Switzerland is home to an amazing concentration of galleries and museums displaying fascinating collections of history and traditions, natural and human sciences, ancient and modern art. The website of the Swiss Museums Association and ICOM Switzerland offers a database of most Swiss museums and has different search tools available to find topic-specific museums. Last but not least, music is simply part of the Swiss way of life.