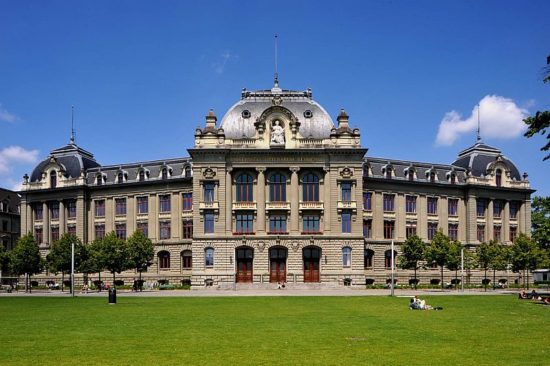 Universities
University of Bern
Bern
The University of Bern is international to the core with top-class academics and a comprehensive range of study programs in a location of outstanding beauty in Switzerland's capital city.
Best minds in pursuit of knowledge
The University of Bern stands for excellence in teaching and research across the entire institution. Its comprehensive study programs range from the sciences to the humanities and beyond. With many internationally acclaimed research strengths, highlights include climate science, space, medicine and sustainable development.
International powerhouse
Our international nature is amply reflected in the diverse backgrounds of the people working, studying, teaching and researching at our institution. Almost half of our 500 professors joined us from reputable universities outside of Switzerland. Some 40 per cent of our PhD students are international. Our students – of which there are 17500 – come from more than 100 nations. We warmly encourage potential students to apply, especially those interested in Masters and PhDs.
Regarding study options, a number of Master programs are taught in English. These include climate science, computer science and life sciences, biomedical engineering, business, economics, mathematics and political, legal and economic philosophy. Most doctoral programs and doctorates are also available in English. All Bachelors are taught in German.
Warm welcome
If you do join our university, a warm welcome is guaranteed with specially designed services to make you feel quickly at home. These include guiding you through the practicalities of living and studying in Bern.
Students can choose to live in halls of residence, and eat in one of the numerous cafeterias at a resonable price. If you are interested in sports, our extensive sports facilities and courses are open to you. You can also join a wide selection of student associations.
But that is not all. One of our strategic priorities is to foster the next generation of career academics. To achieve this, we offer dedicated support to our researchers in crucial areas such as applying for funding and career-planning.
Divine Bern
The University itself is centrally located with the majority of buildings in the lively Länggasse area with its turn-of-the-century architecture, cosy restaurants and cool bars.
To top it off, students in Bern can benefit from a high quality of life in Switzerland's capital. Small but divine, Bern offers all the advantages of living in a safe capital city with few of the stresses. While the country may be sometimes perceived as an expensive place to live, this is not necessarily true thanks to the very low fees for attending our University.
Imagine studying and living in a location of outstanding beauty with a UNESCO World Heritage Site, the Old Town of Bern, cultural attractions from top music festivals to museums and easy transport connections to other European capitals and further afield. If you study at our University, imagine no more as all of this and more could be part and parcel of your daily life.
Image©Unibe
RESEARCH + TEACHING AREAS
Computer Science
Economics, Political Science
Historical and Cultural Sciences
Language Sciences, Literature, Communication Sciences
Law, Criminology
Mathematics and Natural Sciences
Medicine, Pharmacy and Health
Social Sciences, Social Work
Sports and Physical Education
Teacher Education, Special Pedagogy, Educational Science, Subject-specific Didactics
Theology, Sciences of Religion
DEGREE PROGRAMMES
Number of Bachelor programmes: 39
Number of Master programmes: 72
Number of PhD programmes: >41
Number of programmes in continuing education: approx. 70
At a glance
FOUNDED IN 1834
17900 STUDENTS
13% INTERNATIONAL STUDENTS
1005 CHF TUITION FEES/SEMESTER FOR INTERNATIONAL STUDENTS (2018/19)
2018 TIMES HIGHER EDUCATION WORLD UNIVERSITY RANKINGS:  105

1 NOBEL PRIZE LAUREATE
ALBERT EINSTEIN QUALIFIED AS LECTURER AT THE UNIVERSITY OF BERN