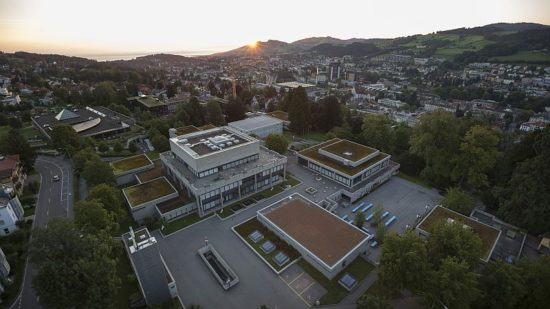 Universities
University of St.Gallen (HSG)
St.Gallen
Internationality, practical relevance and an integrative view have characterised education at the University of St.Gallen (HSG) ever since it was established in 1898. Today, we educate more than 8800 students in Business Administration, Economics, Law, Social Sciences, International Affairs and Computer Science. With success: according to the current rankings, the HSG is among Europe's leading business universities.
At the HSG studies have a special profile, which is informed by our vision: "As a leading business university we set global standards for research and teaching by promoting integrative thought, responsible action and an entrepreneurial spirit of innovation in business and society."
To attain these goals, we offer our students Contextual Studies. In Contextual Studies, core studies in economic and legal sciences are complemented and reflected upon from various perspectives. Our students learn that economic decisions are always embedded in general societal, cultural and historical conditions and must therefore be viewed from an integrative angle. Students are thus educated to become personalities who are aware of their social responsibility and will be in a position later in life to act in a flexible, responsible and sustainable manner.
Teaching and research
Besides teaching, many faculty members also work at the HSG's 42 institutes and centres, where they deal with topical academic issues. At the same time, they cultivate contacts with trade and industry, law and politics. These activities, rooted both in academia and practice, ensure that our faculty members are always up to date and able to pass on their knowledge to students in their lectures.
Schools
The HSG runs seven schools: the School of Management, the School of Finance, the School of Economics and Political Science, the Law School, the School of Computer Science, the School of Medicine and the School of Humanities and Social Sciences. The schools ensure the pursuit of the basic objectives in teaching, research and executive education.
Genuine internationality
The HSG encourages and enables students to supplement their academic curriculum with international experience. Double degrees, exchange programmes, students from all over the world, an international faculty, an internationally oriented curriculum and networks give students the opportunity to experience foreign cultures and perspectives first-hand.
University life
About 120 student associations and initiatives contribute to a rich and diverse university life. University Sports offers our students about 250 training units in more than 60 different sports every week.
Labour market
The Career & Corporate Services team offers individual consultations, workshops, career events with companies and supports international students in their entry into professional life in the Swiss labour market. Thus, the HSG is Switzerland's business university with the strongest placement results.
HSG Alumni network
HSG Alumni is the official organisation of former students of the University of St.Gallen. With approx. 31000 members and 180 Alumni Clubs on 5 continents, it is one of Europe's leading associations of this type. It reinforces the alumni's lifelong bonds with the University, as well as the networks among its members, by means of numerous events and information platforms.
RESEARCH + TEACHING AREAS
Computer Science
Economics, Political Science
Law
Medicine
Teacher Education
DEGREE PROGRAMMES
Number of Bachelor programmes: 5
Number of Master programmes: 14
Number of PhD programmes: 7
Number of programmes in continuing education: 120
At a glance
FOUNDED IN 1898
8872 STUDENTS
25% INTERNATIONAL STUDENTS
PhD 1079 / Master 3329 / Bachelor 3129 CHF TUITION FEES/SEMESTER FOR INTERNATIONAL STUDENTS (2020/21)
1st PLACE, FINANCIAL TIMES MASTERS IN MANAGEMENT RANKING CONTINUOUSLY SINCE 2011
6th PLACE, FINANCIAL TIMES MASTERS IN FINANCE RANKING 2020
4th PLACE, FINANCIAL TIMES TOP EUROPEAN BUSINESS SCHOOL RANKING 2019
2nd PLACE, THE ECONOMIST MASTERS IN MANAGEMENT RANKING (WORLDWIDE)
1st PLACE, HANDELSBLATT RANKING BUSINESS RESEARCH, GERMAN-SPEAKING EUROPE 2017
10th PLACE, HANDELSBLATT RANKING ECONOMICS RESEARCH, GERMAN-SPEAKING EUROPE 2017
200 PARTNER UNIVERSITIES WORLDWIDE FOR EXCHANGE SEMESTERS
42 INSTITUTES AND RESEARCH CENTRES
109 PROFESSORS, 73 ASSISTANT PROFESSORS, 36 PERMANENT LECTURERS AND 565 LECTURERS
4 OUT OF 5 BACHELOR'S AND MASTER'S STUDENTS HAVE A REGULAR JOB BEFORE GRADUATION
90% OF ALL GRADUATES WOULD CHOOSE THE HSG AGAIN