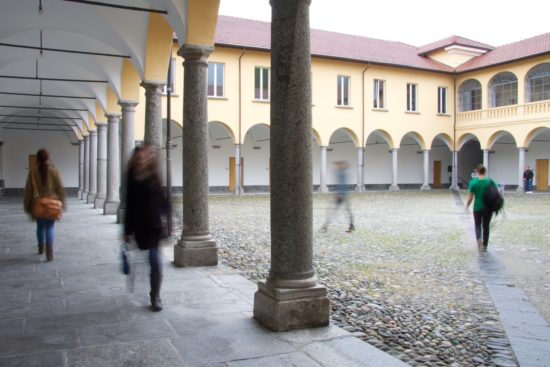 Universities of Teacher Education
Department of Education and Learning SUPSI
Locarno
Being a teacher is a life choice. At SUPSI-DFA we believe that teacher education programs should offer profound contact with the profession and with the research sector, within a lively cultural environment blending tradition and innovation.
Becoming a teacher
Becoming a teacher is more than learning a job: it means finding your fulfillment in the growth and development of children and young people. All in all, it is investing in the the future. The Department of Education and Learning (Dipartimento formazione e apprendimento, SUPSI-DFA), one of the four departements of the University of Applied Sciences and Arts of Southern Switzerland (SUPSI), is the only Italian-speaking Teacher Education University in Switzerland. We train generalist teachers for pre-primary and primary schools, and subject specialist teachers for lower secondary schools and high schools. Our university is small in size, making it a welcoming, friendly and lively place, where teachers and students share their passion for education.
In contact with the profession
We believe that teaching is an art, informed by insights from research; and being a teacher a life choice. The constant dialogue with the school system (institutions, headmasters, teachers) is a central value at SUPSI-DFA. Professional teaching practice and a constant direct contact with the profession lie at the core of our Bachelor and Master programs: the added value we offer our students is working with pupils at least one day a week right from the start. The regular schedule is also alternated with block weeks dedicated to special courses or intensive professional practice. The close interactions between SUPSI-DFA and Ticino schools is the catalyst for transforming ideas into research projects, continuing education courses, and cultural events like Matematicando, la Notte del racconto, Piazzaparola or Media in Piazza, to mention only a few.
Blending teaching and research
Teachers at SUPSI-DFA come both from academia and from the field, in a blend bringing together research and practice, tryng to get the best from both worlds. Research also represents a central activity for SUPSI-DFA, whose researchers are often also active in teaching. Research projects are conducted in collaboration with national and international partners, and thanks to the support of the Swiss National Science Fountation, the Federal Office of Culture, European Research Programs, and private foundations.
A century-long tradition South of the Alps
Locarno, located South of the Swiss Alps, enjoys the warm climate and wonderful landscapes of Lake Maggiore, and the lively cultural life of the small town that hosts Switzerland's major cultural event, Locarno Festival. Although SUPSI-DFA was established only recently (2009), Locarno boasts a century-long tradition of teacher education in Ticino. The main campus, the Chiostro di San Francesco in the heart of the Old Town, bears testiment to this, and inspires study programs that continually blend innovation and tradition.
Image©SUPSI-DFA
RESEARCH + TEACHING AREAS
Teacher Education, Special Pedagogy, Educational Science, Subject-specific Didactics
– Pre-primary level
– Primary level
– Secondary level I
– Secondary level II / Vocational education and training
– Subject-related education
– Special needs education
DEGREE PROGRAMMES
Number of Bachelor programmes: 2
Number of Master programmes: 3
Number of programmes in continuing education: >18 and many short courses
At a glance
FOUNDED IN 2009
469 STUDENTS
4,7% INTERNATIONAL STUDENTS
1600 CHF TUITION FEES/SEMESTER FOR INTERNATIONAL STUDENTS (2020/21)
100% STUDENTS DOING PROFESSIONAL TEACHING PRACTICE