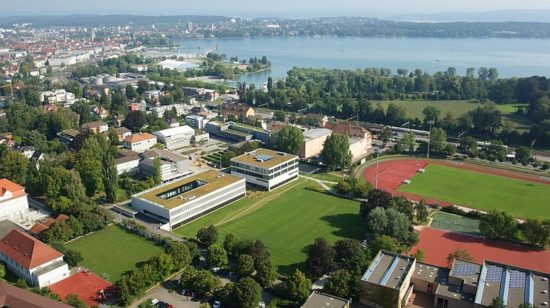 Universities of Teacher Education
Thurgau University of Teacher Education
Kreuzlingen
The Thurgau University of Teacher Education (PHTG) is an open, multi-cultural university providing high quality pre-service and in-service teacher education and engaging in educational research. PHTG is located at the South shore of Lake Constance and only a few minutes away from the Swiss-German border. Its location and commitment to internationalisation allow for a unique study experience without borders.
A modern campus in an attractive, central location
The new and purpose-built PHTG Campus is fully equipped with modern facilities, such as a library and a New Media Centre offering the latest audio-visual equipment. Other facilities are specialist to the subjects we offer .
Bachelor programmes
In three years of full-time study students are trained in pre-primary (kindergarten) or primary school education (grades 1-6). The degree awarded by PHTG to successful candidates is the Bachelor of Arts in Pre-Primary/Primary Education. Courses concentrate not only on teaching skills and practical training but also on many individual subjects (including music, arts & crafts and foreign languages).
Master programmes
The MA course "Sekundarstufe I" qualifies students to teach 3 to 4 subjects in lower secondary schools (grades 7 to 9).
The MA course "Sekundarstufe II" enables students who have previously completed a degree programme at a Master's level to gain a teaching qualification and includes modules in education and methodology whilst offering practical training. Successful students are awarded the degree of Master of Advanced Studies in Secondary and Higher Education (grades 9 to 12).
Another Master Programme, the MA for Early Childhood Education, is designed for students wishing to become experts in the field of early childhood education.
Cross-border Collaboration
PHTG has been able to establish a unique partnership with the neighbouring University of Konstanz in Germany (officially classed as one of Germany's "Universities of Excellence").
All of PHTG's Master degrees are offered in cooperation with this university where students acquire their in-depth academic knowledge related to their chosen subject areas. As a cross-university teaching and research initiative, the Binational School of Education (BiSE) by PHTG and the University of  Konstanz  aims to further strengthen the professionalisation of teacher education and support the development of research in the field of specialised didactics:  bise.uni-konstanz.de/
What to expect as an international student
The language of instruction is German. A limited range of courses taught in English is available for non-degree seeking students with little or no knowledge of German.
International students attend our practice and research-oriented courses together with regular PHTG students to ensure a culturally mixed classroom environment.
Tailor-made school placements and German language courses form an integral part of studying at PHTG.
Students may complement their study programme at PHTG with courses offered by the German University of Konstanz and thus get to study in two countries during their time abroad.
PHTG provides exchange students with affordable accommodation in fully furnished and centrally located student apartments as well as a bicycle.
RESEARCH + TEACHING AREAS
Teacher Education, Special Pedagogy, Educational Science, Subject-specific Didactics
– Pre-primary level
– Pre-primary and primary levels
– Primary level
– Secondary level I
– Secondary level II / Vocational education and training
DEGREE PROGRAMMES
Number of Bachelor programmes: 2
Number of Master programmes: 4
Number of programmes in continuing education: 5
At a glance
FOUNDED IN 2003
760 STUDENTS
16% INTERNATIONAL STUDENTS
700 - 900 CHF TUITION FEES/SEMESTER FOR INTERNATIONAL STUDENTS (2020/21)
BINATIONAL SCHOOL OF EDUCATION (BISE) / BINATIONAL CENTRE FOR EARLY CHILDHOOD (BiKI)
BEAUTIFUL LAKESIDE LOCATION