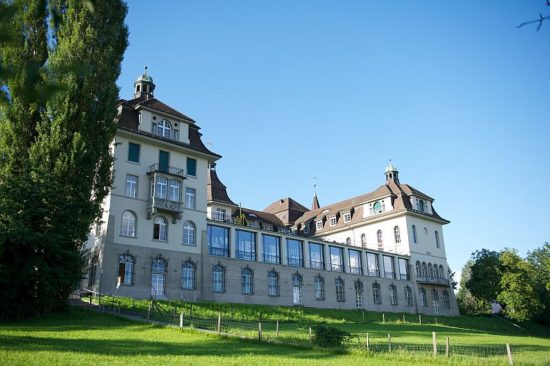 Universities of Teacher Education
Pedagogical University of St. Gallen
St.Gallen, Gossau, Rorschach
The Pedagogical University of St. Gallen (PHSG) trains teachers, promotes research and provides services and further education opportunities for teaching staff and educational institutions. It is well-known throughout Switzerland and serves as a strong partner at a national level.
Discover an alternative approach to teacher training, and to life
More than 1,200 students study at the PHSG, all pursuing the goal of becoming teachers at different levels of primary and secondary vocational education. Experience everyday life at the PHSG with our mobility programme. As a guest, you will gain hands-on experience and get to know Eastern Switzerland.
International class
Would you like to spend an exchange semester at the PHSG? If so, there are two options available to you:
Attend a semester of classes from the standard German-speaking curriculum at the kindergarten and primary or lower secondary level, if you speak German to B2 standard or higher.
Attend the English-speaking international class in the spring semester
Staff mobility
There is the option of spending a week (usually for employees of partner institutions) or a longer study period getting to know the institution and, where possible, playing an active role in teaching and research. PHSG employees will receive appropriate support should they wish to spend time at an institution abroad.
Campus
The Pedagogical University's campus comprises four buildings in three locations: Gossau, Rorschach and St. Gallen. Our buildings – the majority of which are listed, and some of which are more than 100 years old – house modern research facilities and a lively university community.
Research: The PHSG conducts research on a variety of educational topics, as well as developing and testing potential solutions and new approaches. The results of this research provide the foundation for empirically-based teacher training. A total of nine institutions are working on projects in the fields of educational research, development and evaluation.
Services
Among our chief services are the five Regional Pedagogical Centres, the Centres of Excellence for Early Education, Mathematics and Interreligious Learning, the Department of Democratic Education and Human Rights, the Department of Theatre, the Institute of Educational Evaluation, Development and Consultation, and the Institute of IT and Media Support, as well as the media association, e-learning and webtools.
Organisation
The PHSG is characterised not only by its extensive specialist, didactic and pedagogic expertise, but also by its highly developed connections with the professional world and its well-regarded research into teaching and learning.
We promote innovation, contributing to the development of both teacher training and the school itself. The Rector and four Vice-Rectorates together form the Rectorate, which is led by the university council, headed by the Director of Education for the canton of St. Gallen. There is also an advisory board made up of international experts in the field.
RESEARCH + TEACHING AREAS
Teacher Education, Special Pedagogy, Educational Science, Subject-specific Didactics
– Pre-primary level
– Pre-primary and primary levels
– Primary level
– Secondary level I
– Secondary level II / Vocational education and training
– Tertiary level B didactics
– Adult education didactics
– Subject-related education
– Special needs education
DEGREE PROGRAMMES
Number of Bachelor programmes: 2
Number of Master programmes: 5
Number of programmes in continuing education: 5
At a glance
FOUNDED IN 2007
1225 STUDENTS
4.7% INTERNATIONAL STUDENTS
2500 CHF TUITION FEES/SEMESTER FOR INTERNATIONAL STUDENTS (2018/19)