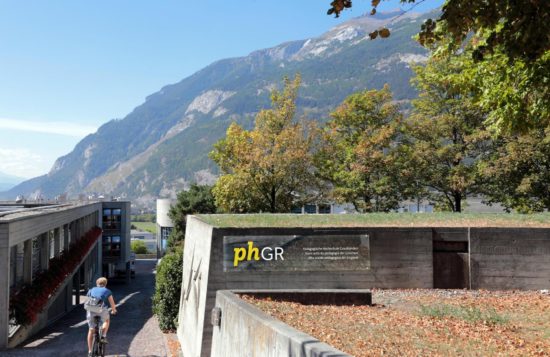 Universities of Teacher Education
University of Teacher Education of Grisons
Chur
The University of Teacher Education of Grisons (PHGR) is situated in the heart of Switzerland's impressive alpine mountains. Future teachers in primary education and pre-primary education will find a small but personal campus. Courses and trainings are trilingual in German, Italian and Romansh.
Teaching
The studies consist of three-year Bachelor's degree courses for pre-primary or primary education. Vocational training or internships (BPA) are a substantial part of the basic training and consist of vocational study weeks as well as the practical weeks at a primary school or a kindergarten. Bilingual diplomas can be obtained in either Italian-German or Romansh-German.
Research
The Research, Development and Services Department of the PHGR is concerned with three aspects "School in the Alpine Region", "Multilingualism" and "School and Technology". It consists of professionally and practically oriented research and development as well as a service department. These insights and findings are incorporated into training and continuing education. At the same time, the lecturers of all faculties and scientific staff are encouraged to pursue their specific research fields. Currently, there are seven Ph.D. students at the PHGR in joint degree programs with various Swiss universities.
Continuing education
The Continuing Education Department of PHGR opens up opportunities with its wide range of services tailored to a variety of needs for schools. Teachers use these for their career planning and increase their professional qualifications. Presently, the PHGR offers three Master's degree courses: School Development, Expansion of Secondary School and Special Education with a focus on Curative Education.
PHGR REPRESENTATIONS
The personal atmosphere of a medium-sized university
A meeting place of three languages and cultural identities
State of the art facilities, modern seminar rooms and lecture halls for teaching staff and students, a well-equipped library, a restaurant and accommodation
A spectacular campus setting above the city of Chur (35,000 inhabitants)
A philosophy and work ethic expressed in a Charter of Values and precepts
Numerous sporting and outdoor activities. World-famous alpine destinations like Davos, Flims, Laax, St. Moritz and Arosa are only a stone throw away. Skiing, snowboarding, hiking, rock-climbing – all the treats of a relaxed alpine living are available
Image©Lydia Bauer
RESEARCH + TEACHING AREAS
Teacher Education, Special Pedagogy, Educational Science, Subject-specific Didactics
– Pre-primary level
– Primary level
– Secondary level I
– Adult education didactics
– Subject-related education
– Special needs education
DEGREE PROGRAMMES
Number of Bachelor programmes: 3
Number of Master programmes: 3
Number of programmes in continuing education: 5
At a glance
FOUNDED IN 2003
450 STUDENTS
2% INTERNATIONAL STUDENTS
3570 CHF TUITION FEES/SEMESTER FOR INTERNATIONAL STUDENTS (2020/21)