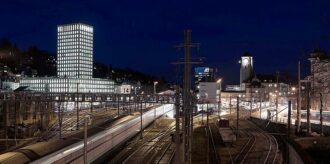 Universities of Applied Sciences and Arts
OST Eastern Switzerland University of Applied Sciences
St.Gallen, Buchs, Rapperswil
We are an interdisciplinary university of applied sciences with a strong focus on practice and application. Around 6,000 students are currently enrolled in our Bachelor- and Mastercourses Engineering, Architecture, Business Administration, Health and Social Work departments, as well as in executive education courses. We oversee 30 research and consulting institutes and are actively involved in the national and international knowledge community.
Research and Consulting Services for the Business World
For companies and institutions, we provide application-oriented support for questions related to the business world at different levels. Depending on the question, an Institute or centre of excellence can be entrusted with a project or a student project work can be commissioned.
Consulting Services of Institutes and Competence Centres
Application-oriented Research and Development Projects
Project Work by Students
Bachelor and Master's Theses
Executive and Continuing Education
The range of Master of Advanced Studies (MAS) and certificate study programmes (CAS) as well as the advanced training courses at OST are aimed at specialists from industry.
Studying at St.Gallen

With our full-time and part-time study opportunities in Business Administration, Social Work, Health, Business Information Management and Industrial Engineering, you can design your education in a flexible way, according to your professional objectives. The Bachelor and Master's degree programmes prepare you for future challenges in your professional life with practical orientation and an interdisciplinary network. Several in-depth majors allow you to tailor your studies to your individual interests.
Studying at Rapperswil

Studies
We offer studies at Bachelor's and Master's level in technology and planning sciences at a breathtakingly scenic campus on Lake Zurich. We teach Bachelor and Master students in practice-oriented study programmes such as civil engineering, electrical engineering, renewable energies and environmental engineering, computer science, landscape architecture, mechanical engineering and innovation, spatial planning and industrial engineering.
Specialty: We have our own dormitories, where especially international students can be hosted.
Studying at Buchs

We are an important provider of engineering and technical education and services in the Rhine Valley on either side of the border (Switzerland, Fuerstentum Liechtenstein, Austria).
Teaching
We offer a BSc in Systems Engineering, allowing students to specialize in their second and third years when they choose between Mechanical Engineering, Photonics, Microtechnology, Electronics and Control Engineering, Information and Communciation Systems, Computer Science. A range of Master's degrees cater for students who wish to take their studies further and for engineers in the field who are interested in professional development.
RESEARCH + TEACHING AREAS
Computer Science
Economics and Political Science
Engineering, Architecture, Agricultural and Forest Sciences
Medicine, Pharmacy and Health
Social Sciences, Social Work
DEGREE PROGRAMMES
Number of Bachelor programmes: 14
Number of Master programmes: 6
Number of programmes in continuing education: approx. 100
At a glance
FOUNDED IN 1999
6000 STUDENTS
5% INTERNATIONAL STUDENTS
1000 CHF TUITION FEES/SEMESTER FOR INTERNATIONAL STUDENTS (2022/23)