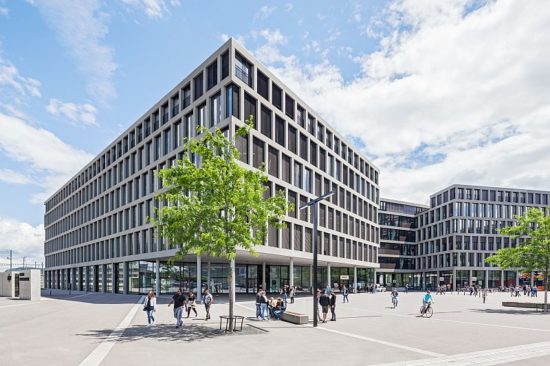 Universities of Applied Sciences and Arts
FHNW University of Applied Sciences and Arts Northwestern Switzerland
Brugg-Windisch, Basel, Muttenz, Olten, Solothurn
Nine schools, four modern campuses, people from over 60 different countries, 12400 students: the FHNW is one of Switzerland's leading universities of applied sciences and arts, acknowledged for the excellence of its teaching and research.
The nine schools of the FHNW offer a broad spectrum of subjects and enable a diverse and interdisciplinary approach to teaching and research in the following fields: Applied Psychology, Architecture, Civil Engineering and Geomatics, Art and Design, Business, Teacher Education, Engineering, Life Sciences, Music and Social Work.
The skills of its lecturers and researchers, an excellent infrastructure and a strong regional, national and international network offer excellent conditions in which to address wide-ranging issues in the domains of science, business, politics, culture and society.
Diverse and international
People from more than 60 countries work and study at the FHNW. This diversity provides an enriching environment and prepares students for the challenges posed by a globalised economy and society. The FHNW's international activities include partnerships with international universities and institutions, involvement in European research programmes, summer schools and international projects as well as both tri-national and multi-lingual degree programmes.
Practically relevant and flexible
Degree programmes at the FHNW offer a hands-on university education of practical relevance, providing an excellent long-term basis for careers and continuing development in various professional fields. Many of the FHNW's degree programmes can be completed on a full-time, part-time or combined basis, giving students the chance to tailor their studies to meet their individual needs and circumstances.
Research + Teaching Areas
Arts, Design
Computer Science
Economics
Engineering and Architecture
Mathematics and Natural Sciences
Medicine, Pharmacy and Health
Social Sciences, Social Work
Teacher Education, Special Pedagogy, Educational Science
Degree Programmes
Number of Bachelor programmes: 29
Number of Master programmes: 17
Number of programmes in continuing education: 240 (CAS, DAS, MAS)
At a glance
FOUNDED IN 2006
12400 STUDENTS
9% INTERNATIONAL STUDENTS
CHF 700 (EU COUNTRIES) / min. CHF 5000 (NON-EU COUNTIRES) CHF TUITION FEES/SEMESTER FOR INTERNATIONAL STUDENTS (2020/21)
STUDENTS AND STAFF FROM OVER 60 COUNTRIES