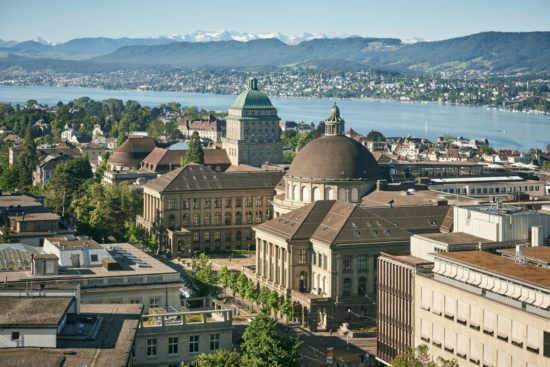 Universities
ETH Zürich – Swiss Federal Institute of Technology
Zürich, Basel, Singapore
ETH Zürich – the Swiss Federal Institute of Technology is among the world's leading universities of science and technology. Offering excellent conditions for learning and research, state-of-the-art facilities and an attractive urban environment, ETH Zürich is academic home to 26,000 students, researchers, faculty and staff members, including some of the brightest minds in the world.
Broad range of programmes
ETH Zürich offers degree programmes in the fields of construction sciences, engineering sciences, natural sciences and mathematics, system-oriented natural sciences, and management and social sciences.
All Bachelor's programmes are taught in German, whereas the language of most Master's and all doctoral programmes is English. Two out of three ETH professors and doctoral students come from outside of Switzerland – this is 126 nationalities under one roof. The global perspective is characteristic of the academic experience at ETH Zürich.
Close links to research
Education at ETH Zürich is closely linked to research. Master's courses are taught in small groups. Semester projects and the six-month thesis introduce students to independent research work, integrated in a research group. All programmes also require elective courses in the humanities, social or political sciences. This ensures that ETH graduates have the broad education required to master tomorrow's challenges.
First-class facilities for a first-class education
Students at ETH Zürich benefit from first-class facilities: world-class laboratories, great library resources and state-of-the-art computing infrastructure. The university's two locations provide an excellent learning and research environment: in the centre of Zürich, and on the Campus Hönggerberg – a natural setting a few minutes from downtown.
Follow in the footsteps of Einstein
For over 160 years, ETH Zürich has been a touchstone for science and engineering leaders. The university is consistently ranked among the top institutions worldwide for its research and education. Twenty-one Nobel laureates, from Wilhelm Konrad Röntgen and Albert Einstein to Kurt Wüthrich have been associated with ETH Zürich over the years.
Admission requirements
The formal requirement for admission to a Master's programme at ETH Zürich is a Bachelor's degree from a recognized university in a qualifying subject. The prerequisites in terms of subjects, quality, depth and breadth of your previous studies are described in a requirement profile for each programme. ETH Zürich sets high academic standards. The Master's programmes are intense and demanding, so in order to succeed you will need to be able to perform at a high level from the start.
Under the Excellence Scholarship and Opportunity Programme, ETH Zürich offers full scholarships for outstanding Master's students. Many degree programmes also offer partial financial support.
Image©ETH Zürich
RESEARCH + TEACHING AREAS
Computer Science
Economics, Political Science
Engineering and Architecture, Agricultural and Forest Sciences
Mathematics and Natural Sciences
Medicine, Pharmacy and Health
Sports and Physical Education
DEGREE PROGRAMMES
Number of Bachelor programmes: 23
Number of Master programmes: 47
Number of PhD programmes: 29
Number of programmes in continuing education: 60 (MAS, DAS, CAS)
At a glance
FOUNDED IN 1855
22000 STUDENTS
40% INTERNATIONAL STUDENTS
799 CHF TUITION FEES/SEMESTER FOR INTERNATIONAL STUDENTS (2020/21)
QS WORLD UNIVERSITY RANKING (2021): RANK 6
21 NOBEL LAUREATES
2 FIELDS MEDALISTS
2 PRITZKER PRIZE WINNERS
199 EUROPEAN RESEARCH COUNCIL (ERC) GRANTS (SINCE 2007)